UPDATE
3: Incidentally, a pacifist would not promulgate, in whatever form, a weapon that causes so much harm.
UPDATE
2: Being harangued for a technical failure is so joyous when the comments have been published. . Somehow, the failure of someone to understand the basics of sensibility when presenting a grenade as a 'fun' thing confuses me. "I do not promote actual grenades" - but you do present a 'grenade' as a thing of fun... which it is not. The images are not
my
images but images from the
real
world of the maiming and death caused by grenades and landmines. Perhaps we should all make little crafty 'fun' models of Belsen or Dachcau to show the irony to be seen there with 'pretend' gas chambers where jolly pizzas can be baked. Matter is closed as I do not engage in flame wars.
UPDATE
: To the maker of the hand grenades... your understanding of irony is misplaced and confused. This is 'fun' and 'ironic'...
here
. Some more
here
. Alternatively you could do some 'fun' land mines or better still use your skills to knit covers for limb stumps while people wait for their prosthesis to be made. Let me know as I have a good friend AK who bases his career and life crafting and fitting these for people ... and for 'fun'. Why? He has a huge heart...
I am a great supporter of people who use their skills to craft and create items from raw materials rather than simply buying things 'off-the-shelf'. Not only are they predominantly of high quality, they are usually unique and not mass produced items. Equally, they do not have 'Made in China' on them and the money spent on the purchase normally goes to support someone's personal or local economy. It is all a question of scale and I am fully prepared to pay extra for something that is well made that I know will invariably last longer due to the attention to detail paid. If it fits in with the above criteria I am happy.
One prime example of this is the Etsy website
here
. As a visit there will reveal you will be able to find many unique items (plus odder than an odd person's thing items too) that have a unique beauty of their own. When items such as these are gifted, the giver gets equal joy from knowing the recipient is likely to be exceedingly happy with what is clearly a gift given with thought.
However, often I scratch my head and give a "WTF?" type of response when I see items like these shown below. Do not get me wrong here, I am NOT belittling the efforts of individuals concerned. Particularly when you have some very rewarding results to be found
here
. (I love the photo and the guys are clearly benefiting from their involvement in their knitting.
I am merely pondering the "Why?" behind the effort put in to create items like those from
here
of which I provide some random picture examples below. At this point I shake my head in disbelief and bemusement. I am still unable to comprehend spending the amount of money proposed for a self-portrait made from Gummi Bears... I mean... seriously "WTF? WTF?!!!!!"
IMAGE REMOVED AS DISTASTEFUL - Please see comments
Described as 'a beautiful bowl of knitted hand grenades'.

Or how about knitting your own Death Star?
Here
.
Again, I raise the point "Why?". Take the Dr. Zoidberg one...
... why?
AND before I forget... the Gummi Bear portraits... "HOW MUCH?" 'Are you kidding me or what?' Again... WTF? and WHY???? Someone please enlighten me...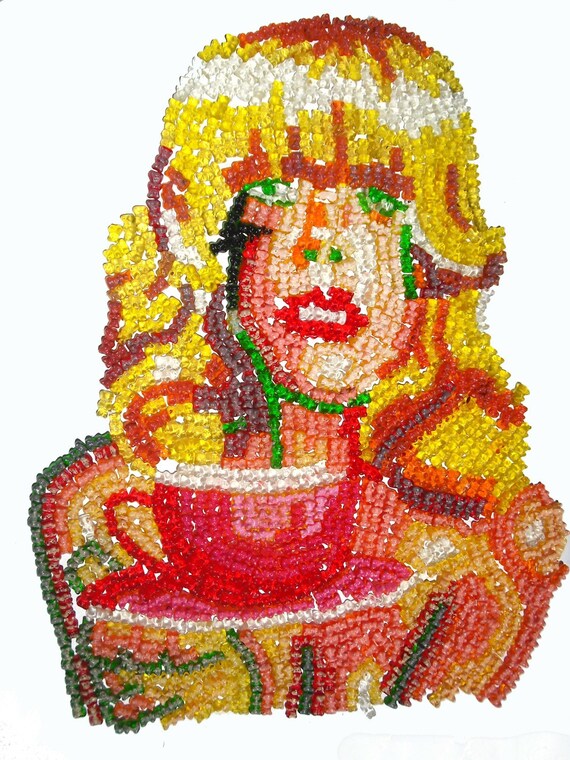 I am lost for words. 'totally rad'? I could be far more 'rad' on a night out with that amount of cash, let me tell you...